Leigh Harrison
It's All About Me (Photo Gallery)
Photo © Bobby Perfect
Photo © Tone Bellizi
Photo © William Coleman
Leigh, hangin' with Al Lewis ("Grandpa" on the long-running TV show," The Munsters,")
during the summer of 1988, in front of
his W. Village restaurant on Bleecker St.
Leigh with the last surviving
original member of The Platters,
backstage after their performance
August, 1982, in Queens.
Photo Credit: Russell Reif
Photo Credit: Bobby Perfect
* * *
Leigh attended many events at The Vault, where she was honored for "Best Poet" and for "Best Song" in their annual awards ceremonies. Here's Leigh photographed by the host of The Vault, Tone Bellizzi.
Leigh spends time up in rural Connecticut, and this photo is
by her long-time lead guitarist,
Bobby Perfect.
Leigh's photo session with William Coleman yielded many studio shots of her, including this one, in
a hot pink sparkle tunic.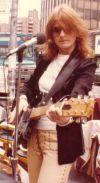 Leigh performed some of her original songs at a concert in the summer of 1981, during the Forest Hills Festival, held along Continental Avenue. Among the other performers were the NYC H.S. Jazz All-Star Band.
Photo Credit: Russell Reif
This is also from the Local 269 jam session on May 12, 2012, while Bob sings "Next Time You See Me," (written by Junior Parker), with Walter on harp and Chuck on drums. Leigh is playing her old turquoise Fender Strat, and Bob is playing his candy-apple red Telecaster..
Here's Leigh and Bob at Local 269, jamming with "Lazy" Walter on harp, Chuck Hancock on drums, and another friend on bass, while the bandleader of The Manhattan Blues Connection, Les Chalimon looks on. Photo taken May 12, 2012 by Billy "Blue" Blend.
Photo credit: Billy "Blue" Blend
Photo credit: Billy "Blue" Blend
Leigh singing at the Local 269 jam session on June 2, 2012, along with T.J. Hogarty and Eddie Roe on guitars, Dave Gerstein on bass, Garry Bloom on drums, and (hidden) Marc Lindahl on keys. (Pix by Johnny Childs.)
Leigh singing at Local 269, NYC, May 26, 2012, with Bobby Perfect on guitar, and Ray Martin on bass. Hidden: Garry Bloom on drums, Craig Oxman on guitar, and Aaron Comiss on keys. (Pix by Darius Reza.)